Recently featured on the Children's Support League's Heart of the Home Tour, this Oakland home was landscaped with a nod to the French countryside, and designed to serve the needs of a growing Bay Area family.  Jarvis Architect and landscape designer Cindy Chan used deer-resistant, drought-tolerant, and edible plants to create an efficient and ecologically-minded space where parents and children alike can enjoy the splendor of the outdoors.
The back yard, designed with the family's three young kids in mind, is host to a large lawn and play structure, and edged by a vegetable garden of edible greenery.  An outdoor kitchen and gas operated fire pit provide leisure-seekers with the full accoutrement to entertain, whilst an outdoor spa provides moments of pause and relaxation.  Purple and pink flowers pepper the lawn's periphery.
Above: outdoor spa and lawn
Above: fire pit, spa, and lounge area in the backyard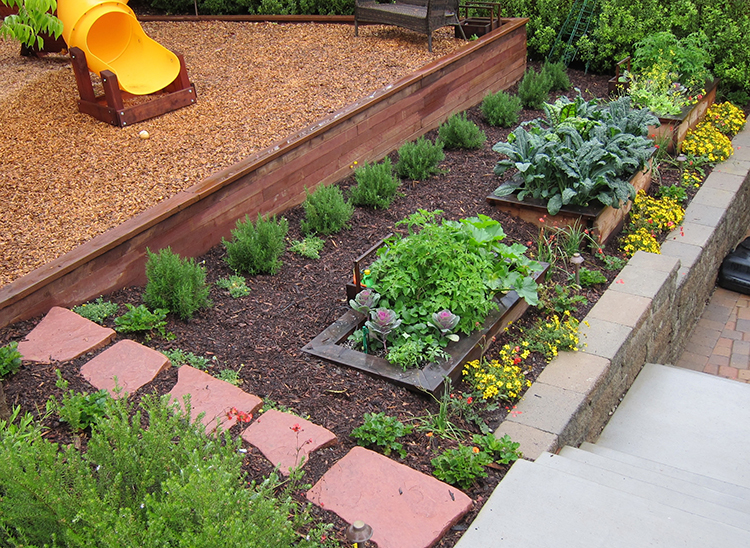 An edible garden is nestled next to the play structure, encouraging the kids to be mindful of where their food comes from
  The front yard presents a contemplative counterpoint the boisterous play and activity of the backyard.   A custom metal railing fence encapsulates lush greenery, and rustic gravel pathways draw the yard dweller in to focal points such as a quatrefoil fountain and a sitting area surrounded by boxwood hedge and trellis.  Mature Oak and Pine trees shelter the elevated patio from the street, both visually and acoustically.  Climbing roses add a dash of pink, elevating the romantic tone of the yard.