The city of Oakland is just that: the land of Oaks.  And when you've got one in your backyard as mighty and beautiful as the Fox family did, there's only one thing to do:  get a swing!
Lucy and Kaya Fox enjoying their new backyard swing
The backyard boasts many spatially efficient details, of which the swing is emblematic.  Architect and landscape designer Cindy Chan helped transform the yard from cramped enclosure to tranquil sanctuary.
The original yard felt narrow and was sloping, with minimum patio space.   Jarvis proposed leveling the grade in part of the yard, in order to produce a larger and more inviting patio.  An offshoot patio hosts the swing, which has become the favorite of the kids and the kids-at-heart.  The new landscaping was installed by Dawn Landscaping, Inc.
The new design utilizes the top of the garage to create a second sunny patio. A simple metal stair, selected for its subtlety and visual permeability, connects the two patios.  A vine trellis was installed inside the original fence, providing a similarly spacious and open quality to the patio's perimeter.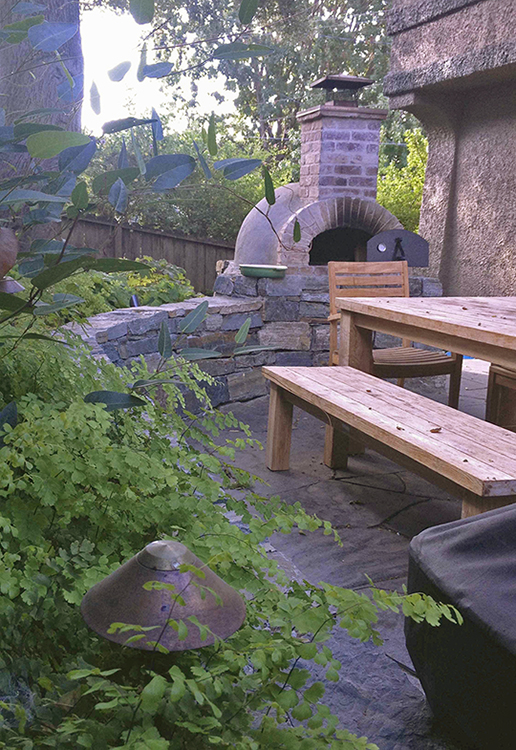 A new wood burning pizza oven, installed with the new patio is the heart and focal point of the patio.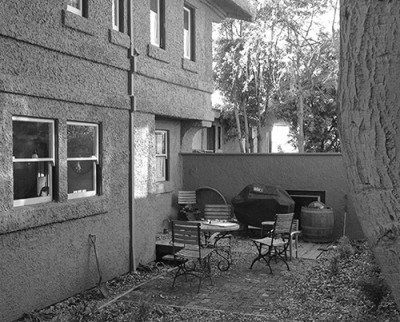 Before: cramped quarters